What

8th Annual Fight For Your Life Junior Championship

Cost

$50 Before November 10, $65 after - Spectators $5

When

November 20, 2021

Where

Holiday Inn Express & Suites
4068 Stansell Ct.
Memphis, TN 38125
Contact: Ms. Cheetah Tennille Westpoint Phone: (901) 567-5600
Pre-Register by Wednesday, November 10th or before
Competitor fee: $50 (Up to 3 divisions) i.e. Forms, Point Sparring, and Weapons (Traditional or Creative/Musical)

Register after Wednesday, November 11th
Competitor fee: $65 (1 or 2 divisions) i.e. Forms and/or Point Sparring
Additional division: $5 per division (i.e. Weapons- Traditional or Creative/Musical)
Spectator fee: $5 (Ages 13+/Adults), $5 (Ages 5-12), and FREE (Ages 4 and under)
AWARDS
1st place- trophy
2nd & 3rd place- medals
4 Grand Champion Trophies
Junior Colored Belt Forms/Weapons
Junior Black Belt Forms/Weapons
Most Supportive School - CASH PRIZE
Due to COVID-19, we're requiring ALL competitors & spectators to wear a mask & attend during their scheduled time. Competitors may remove their mask during forms or weapon divisions since they're solo & will be more than 6 ft. social distance.
ALL Competitors (Ages 8 and under)
Registration- 9:30AM-10:00AM
Competition- 10:00AM-11:00AM
ALL Competitors (Ages 9-12)
Registration- 11:00AM-11:30AM
Competition- 11:30AM-12:30PM
ALL Competitors (Ages 13-17)
Registration- 12:30PM-1:00PM
Competition- 1:00PM-2:00PM
will bring you to Westpoint Martial Arts website for the registration process.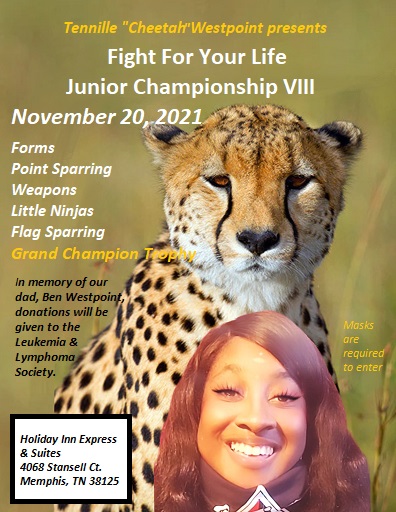 Are You Looking For A Self-Defense School In Memphis, TN?